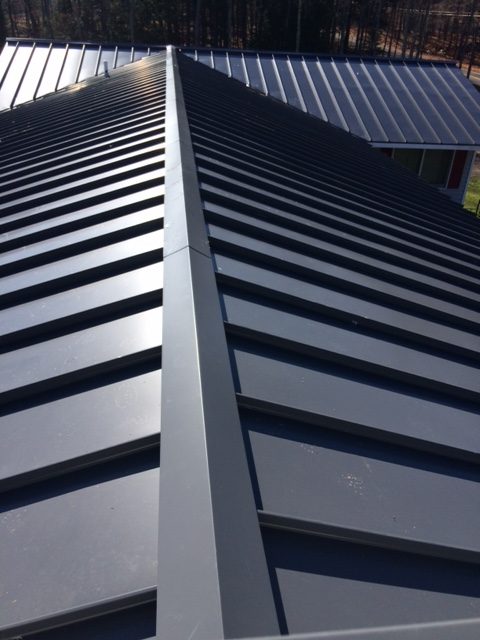 Sheet metal roofing is a durable, eye-catching, and eco-friendly alternative to traditional roofing styles. If you're looking for a long-lasting roof that sets your home apart, our sheet metal roofing is the perfect choice! Allen Roofing, LLC has all the options and materials you need for a stellar roof.
Choose Sheet Metal Roofing for Improved Durability
A sheet metal roof is incredibly strong and long-lasting. Each roof is made of a single sheet of metal that's manufactured to the exact measurements needed. This unique design means sheet metal roofs are completely leak resistant, unlike traditional shingle roofs.
Additionally, a metal roof requires little maintenance and will not crack, splinter, or rot like other roofing materials. It is also pest-resistant and will withstand heavy wind, rain, hail, snow, and even fire! When you install a sheet metal roof, you can expect it to last between 40 and 70 years. In contrast, a shingle or wood shake roof typically lasts only 20 to 30 years.  
Allen Roofing, LLC knows that a great roof starts with great materials. That's why we are the only company in the Capital District to source our sheet metal roofing from Sheffield Metals, a leading distributor of metal products and roofing systems. We use metal roofing sheets manufactured by Monteciano™ because their 24-gauge metal is the strongest metal available for roofing projects. We want your roof to last for a lifetime, so we construct it with the materials to make that possible.
Increase Curb Appeal With a Sheet Metal Roof
A sheet metal roof is an eye-catching addition to your property. It will instantly boost the value of your home and help maintain that value far into the future.
Often, homeowners choose a sheet metal roof to evoke a sophisticated southwestern or Mediterranean look. At your request, the metal can be styled to look like:
Slate
Clay
Tile
Wood
Shingle
You can get the visual effect that you want, while your roof maintains the structural benefits of sheet metal. Win-win!
Plus, when you choose a sheet metal roof from Allen Roofing, LLC, you also get to custom-pick the color. All our roofing pieces are painted with Kynar®, a resin-based coating that will resist fading and wear for decades.
So, if you want to stand out from the crowd, install a sheet metal roof! The team at Allen Roofing, LLC will help you customize the style and color of your roof so that it looks fantastic and lasts a lifetime. 
Sheet Metal Roofs Are Eco-Friendly and Budget Friendly
Yet another benefit of a sheet metal roof is that it's extremely energy-efficient, making this a great choice whether you're keeping track of your carbon footprint or your utility bills! The metal reflects sun in the summer and (along with the rest of the roof structure) keeps heat inside during the winter. 
At Allen Roofing, LLC, the metal we use is constructed of 25%-95% recycled materials. As an added bonus, if you ever need to replace or dispose of the roofing sheets, they can be recycled again for future use. 
To find out more about sheet metal roofs, call the team at Allen Roofing, LLC today! We'll be happy to talk with you about the various options and find you the perfect metal roof for your home. 
Allen Roofing, LLC warranties all of our materials and our labor, and we are insured and licensed for your peace of mind. Contact us for all of your roofing needs in Albany or the Capital District!