Our experienced roofers serve the Capital Region and beyond
Whether you are re-roofing your residential home or installing a new roof on your commercial property, Allen Roofing LLC can help. Offering installation and replacement services, we are the professionals you want on your side when it comes to quality craftsmanship and outstanding customer service in the Captial Region and surrounding areas.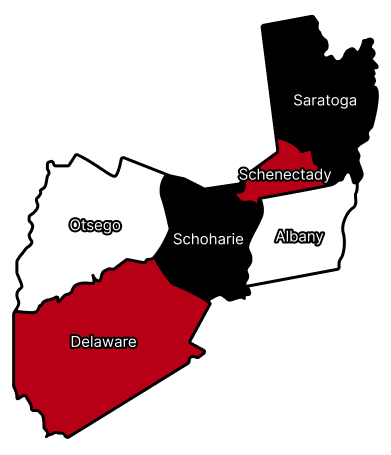 If you are looking for a top-notch when it comes to roofing installation services, our firm can meet all of your needs. We have the resources necessary to provide you with quality products at an affordable price. We currently offer our roofing services in six different counties: Albany, Delaware, Otsego, Saratoga, Schenectady, and Schoharie!
Check if you fall within our service area!
Albany, Alcove, Altamont, Berne, Clarksville, Coeymans, Coeymans Hollow, Cohoes, Delmar, East Berne, Feura Bush, Glenmont, Guilderland, Guilderland Center, Knox, Latham, Medusa, Newtonville, Preston Hollow, Ravena, Rensselaerville, Selkirk, Slingerlands, South Bethlehem, Troy, Voorheesville, Watervliet, Westerlo
Arkville, Bloomville, Bovina Center, Davenport, Davenport Center, Delancey, Delhi, Denver, Downsville, East Branch, East Meredith, Fishs Eddy, Fleischmanns, Franklin, Grand Gorge, Halcottsville Hamden, Hancock, Harpersfield, Hobart, Margaretville, Masonville, Meridale, New Kingston, Roxbury, Sidney, Sidney Center, South Kortright, Stamford, Treadwell, Trout Creek, Walton, West Davenport
Burlington Flats, Cherry Valley, Colliersville, Cooperstown, East Springfield, East Worcester, Edmeston, Fly Creek, Garrattsville, Gilbertsville, Hartwick, Laurens, Maryland, Milford, Morris, Mount Vision, New Lisbon, Oneonta, Otego, Portlandville, Richfield Springs, Roseboom, Schenevus, Schuyler Lake, Springfield Center, Unadilla, Wells Bridge, West Burlington, West Oneonta, Westford, Worcester
Mechanicville, Saratoga Springs, Ballston, Charlton, Clifton Park, Corinth, Day, Edinburg, Galway, Greenfield, Hadley, Halfmoon, Malta, Milton, Moreau, Northumberland, Providence, Saratoga, Stillwater, Waterford, Wilton
Burlington Flats, Cherry Valley, Colliersville, Cooperstown, East Springfield, East Worcester, Edmeston, Fly Creek, Garrattsville, Gilbertsville, Hartwick, Laurens, Maryland, Milford, Morris, Mount Vision, New Lisbon, Oneonta, Otego, Portlandville, Richfield Springs, Roseboom, Schenevus, Schuyler Lake, Springfield Center, Unadilla, Wells Bridge, West Burlington, West Oneonta, Westford, Worcester
Mechanicville, Saratoga Springs, Ballston, Charlton, Clifton Park, Corinth, Day, Edinburg, Galway, Greenfield, Hadley, Halfmoon, Malta, Milton, Moreau, Northumberland, Providence, Saratoga, Stillwater, Waterford, Wilton
Alplaus, Delanson, Duanesburg, Pattersonville, Quaker Street, Rotterdam Junction, Schenectady
Carlisle, Central Bridge, Charlotteville, Cobleskill, Fultonham, Gallupville, Gilboa, Howes Cave, Jefferson, Middleburgh, North Blenheim, Richmondville, Schoharie, Sharon Springs, Sloansville, Summit, Warnerville, West Fulton